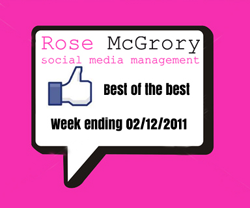 Welcome to our "starting to feel festive now" rundown of last week's top social media and marketing content – if you're marketing an SME business or third sector organisation, this is the content you need!
Social media sites & tips
Facebook's business page "Insights" statistics have had a thorough overhaul, and it's vital that you make good use of these if you're growing a Facebook community. All the information you need about the changes is here, including a link to Facebook's own online tutorial:  Facebook Insights changes
We've written before about how to be a star on LinkedIn, but this infographic takes a lighthearted approach to making sure your profile is "fit" for purpose – with increasing numbers of potential clients checking you out on LinkedIn, it's important to make sure your profile does a good job for you!: LinkedIn Boot Camp for marketers
If you're running a company blog, this article provides a great guide to five questions your company blog should answer. Blogs are time consuming to maintain, so  it's always worth reviewing regularly whether your blog is meeting your original objectives.
Search & SEO
We know a lot of you found this article very useful, with lots of tips beyond basic search: How to Google like a ninja. Great for making sure you keep tabs on every mention of your company – socialmention.com is another excellent tool for this, too.
Starting & growing a business
Being in the early stages of creating a business is exciting and fulfilling, but it can also be downright frustrating and depressing at times. These tips on how to avoid entrepreneurs' depression are well worth a read.
The fun slot
A couple of pieces that made us go "uh?!" this week – how the "once in a lifetime" 11/11/11 date looked on Twitter, and Facebook reduces six degrees of separation to 4.74 – you're more closely connected to the rest of the human race now than at any other time in history!