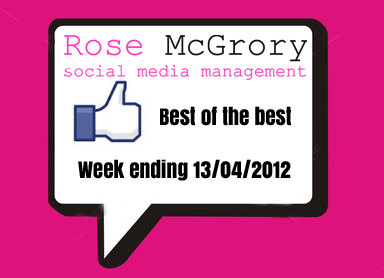 Welcome to our slightly-less-regular than it used to be (hey, we've been busy!) roundup of the week's most important news for SME marketers.
Say Cheese!
The week's biggest news was undoubtedly Facebook's acquisition of the Instagram app. If you use Twitter much, you won't have been able to avoid Instagram – it has a huge following from users who love its ability to render their whole lives in retro-cool imagery. (If I sound a bit jealous, it's because until very recently the app was only available for i-phone, and I'm an Android user! – Kate). Predictably, Instagram users were underwhelmed by the news, to say the least – here's a roundup of witty user reactions from Mashable.
It's an interesting move though, and there was a huge amount of industry comment and speculation on the potential impact of Facebook's purchase, and the implications for their future development directions. Read what everyone else thought here: Why did Facebook buy Instagram?
Google Panda  – the return
Further changes to Google's Panda algorithm had a big impact on some sites in late March. If you're dabbling in Search Engine Optimisation, now is a good time to get an updated view of what's a good idea in terms of link building strategies, and what you need to start avoiding. Luckily, we found an excellent article delivering just that – 7 link building strategies to avoid
Used Friends Reunited lately?
No, us neither. But it's still around, and has had a good shot at a relaunch. We're not convinced it has much hope of regaining the ground lost to Facebook at this point, but it's interesting to see what they've been up to. The relaunch is all about nostalgia..
And Finally
In the "interesting stuff" section this week, we note that 59% of adult internet users are on at least one social networking site. And to help digest the implications of that, we really recommend this article on the impact of social media on concepts of privacy in the US . It's very thought provoking stuff, and crucial if you're marketing to the younger generations. If you're over 25,  just because you wouldn't share or participate or reveal something personal in the public space of social media, don't rule out marketing campaigns which involve any of those – your target market see things VERY differently.
That's all for this week, have a great weekend!