The News Feed for Business Pages is the fastest way of keeping up with your business community or your clients who are also on Facebook – just like your own personal Home feed, the Business Page News Feed brings together recently published content from anyone whose news you are interested in. That can also make it a brilliant source of content for your Page, as you can reshare some of those posts with your own comments or insights.
However, Facebook announced, back in 2021, that they were going to retire the "Like" button on Pages in favour of a "Follow" button. This was then followed by an announcement that we'd be getting, er both.  But either way, the overlap between this function and the News Feed for Business Pages has been, well, pretty broken the entire time.
With the old Like functionality, adding another Page's content to your News Feed was relatively simple: you just needed to click the three dots near to the Like button, and choose "Like as Page".  Easy. This is how it used to look:

Then the Follow buttons appeared, but the "…as Page" option was no more. Clicking on the Follow button simply subscribed your *personal* Facebook feed to that Page. The three buttons were still there, but now, the useful "…as Page" option is lost.

Helpfully (except, in fact, not) Facebook had added a "Suggested for you" section to your actual Business Page newsfeed. How kind! Except their idea of what you should subscribe to may not overlap with yours. As a business who has clients which have nothing in common apart from coming to us for marketing advice, our version of this was as eclectic as it was completely useless. Clicking into the "see more" link just brings more of the same.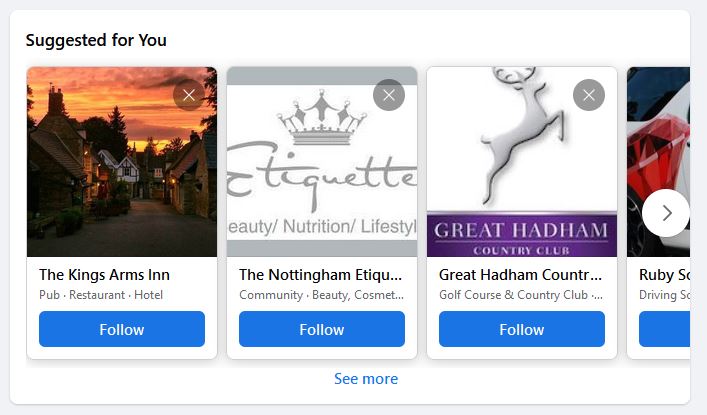 Obviously what we need here is a search option, but there isn't one: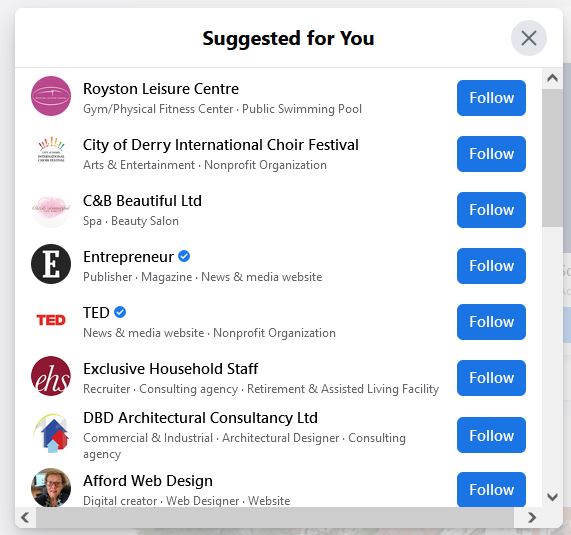 At this stage we did a LOT of googling, and found many tutorials, including this one being featured as an excerpt at the top of Google's results, which claim that the only way now to add things to the News feed is to accept whatever it is that Facebook is suggesting to you.
Well, after a lot of research and button stabbing, we're here to tell you that that is wrong. It's not easy to find, but you CAN actually search for the Business Pages that you specifically want to follow. Here's how.
First, you need to be within the Meta Business Suite. There are a few ways to access this, but the easiest one for this purpose is to go directly into the "News Feed" link underneath the Meta section of your left hand menu. Do NOT go into the News Feed link which is about  an inch below it, but works differently – full marks to Facebook once again for useability here.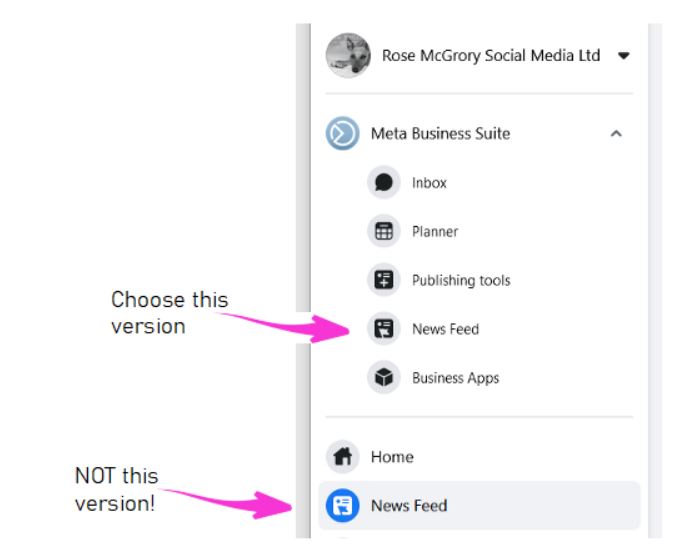 Once you're in, things initially look the same. Same "Suggested for you" box, so you might not bother investigating it much. BUT. Click the "see more" option and this time….. alleluia! We have a Search box.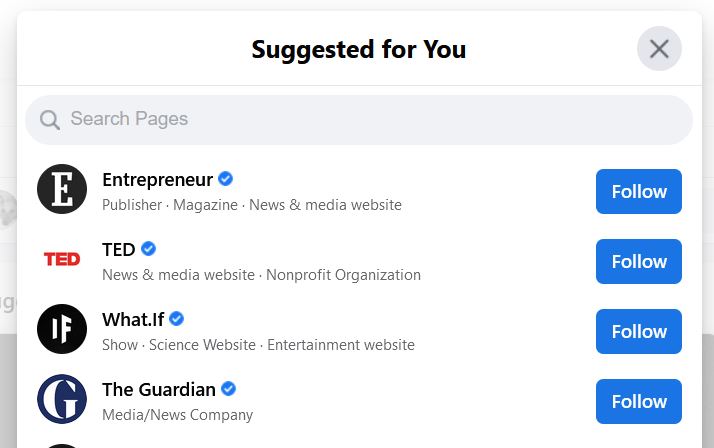 Once you have this, you can just search as normal, and each result comes with a "Follow" button that you can use to subscribe to future content. Our guess is that this search box should have been included in the "other" News Feed version, but someone forgot about it. This is where having a way of communicating bugs to Facebook would be helpful to them as well as us but….yeah.
Anyway, that's a morning of our lives we won't get back. Hopefully this post will show up in Google and stop everyone else having to waste their time too