Got a Facebook page for your business?
Would you like to give visitors the "wow" factor that makes your page stand out from the crowd?
Media stats company socialbakers.com say that custom branded pages grow on average 44% faster than basic pages.
Maximise your "likes" and sales from the start with one of our powerful, interactive custom Facebook pages or tabs.

Our business facebook pages:
Increase the conversion rate of page visitors to Likers, so that your posts will show up in their newsfeed in future
Let you provide  content or special deals EXCLUSIVELY to those who've "Liked" your page
Support all kinds of interactive functions from newsletter signup to helping visitors share your page with their friends
Integrate directly with your website – why not feature a  live news or special offers feed
Can run interactive contests which are fully compliant with Facebook's Terms of Service
We can create custom Facebook pages suitable for any business
Here are some of the functions you can include – and we'll help you choose the best ones for you, and use them creatively to meet your marketing objectives:
Include ANY text or graphics
A wide range of forms, to collect data, entries or comments from your Facebook visitors
Feature embedded videos or new product images
A scrollable gallery of products or service information
"Gaming" elements like sending virtual gifts to friends – from your brand
Simple sweepstake contests, or complex photo or video voting contests – encourage your customers to be creative with your products
Hard to imagine how it'll all look? Well, we've created a demo page within Facebook so that you can have a play with many of the functions on offer.  Just click the thumbnail below to be taken to the live page.
PLEASE NOTE, if you don't click "Like" on the demo page, you won't be able to see all the functions – for example, the photo contest is designed to ensure that visitors "Like" the page before they can enter.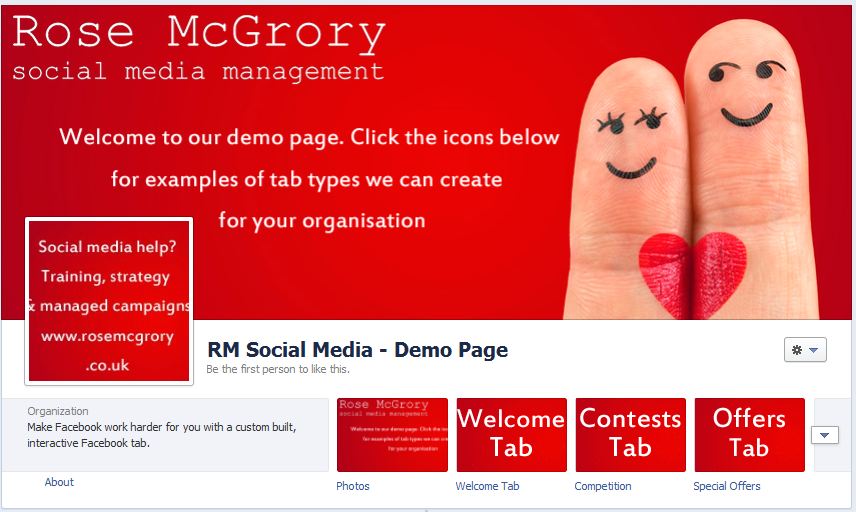 Full management and hosting of your custom page is included in the cost, so if you need to change a special offer, or link up to a new menu, we'll take care of it for you – you need never touch any code.
Ready to have a chat about upgrading your Facebook presence? Get in touch.