In the last couple of weeks, we've had a few prospective clients approach us with something along the lines of "We already have a great Twitter presence, but we think we're not making the most of it, can you help?"
When we take a look at the account,  they have many thousands of followers. So, they're convinced they have an asset there, it's just a question of when to start "sweating" it.
The point of your Twitter account is…
These are all medium size companies, so it's a safe assumption that they started out on Twitter with the aim of delivering some benefit to the organisation. It's possibly a less safe assumption that anyone had articulated, even roughly, what exactly this benefit would look like.
So the account is created, and then someone finds out about this amazing automation software, something like Tweetspinner or Social Oomph. All you have to do is feed in a few general tweets which'll be sent out at intervals, and the software will "grow your audience" by following other accounts, and unfollowing them after a while if they've not followed back. Do this for long enough, and you'll have a big, healthy looking number under  the "follower" count. Then good things will come.
Actually, that company has just joined the Twitter Underpants Gnomes.  The Underpants Gnomes, for those not familiar with early South Park, steal pants as part of their bid for corporate world domination. Their big business plan reveal looks like this: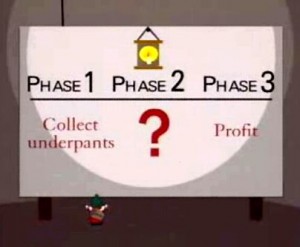 Incidentally, if we had a hundred pounds for each time we've seen something remarkably similar in a corporate presentation, we'd be retired. Anyway, back to Twitter: you get the point. There's a gap in the plan which begins with "go on Twitter" and ends with "increase profit".
All followers are far from equal
A fairly brief look at the activity around this company's Twitter account reveals that things are not so good. The output consists of one way broadcast tweets, promoting the company's offering. There's not an @ reply or Retweet in sight. A search confirms that nobody has engaged with this account in living memory.
Examining the follower list, a very high proportion are similar looking accounts – large numbers of followers, but engaging with nobody. The automation club have a way of finding one another. Others are in markets where that company isn't active, or are obviously spam accounts.
In a nutshell, if the Tweet "first one to reply gets a hundred pounds" were to be sent out from that account, you could be pretty sure that it'd be followed by the chirruping of a million virtual crickets.
Nobody is listening. So what that Twitter account is likely to achieve for the business is…absolutely nothing. It has literally zero value.
The way that people use Twitter is still very much evolving, and we hope that the "numbers game" approach is going to die out as people start to ask these sorts of questions about how the account is meant to deliver value.
If you're a superstar global brand, thousands of followers are there for the taking, provided you do a reasonable job with your outbound content (and in some cases, even if you don't). But for most businesses, an account with even a handful of  really engaged followers, would be hugely more valuable in terms of almost any business goal. Those engaged followers might well be a subset of a much bigger list, but they absolutely have to be there.
What do you think? How do you grow your audience?  Do you use automation software on your own account?
Enjoyed this post? Why not
subscribe to our blog, or

follow us on Twitter?