If you've started a blog for your business (and here's why you should've!) then you'll no doubt be starting to discover a few other blogs that often have content that's useful and can help keep you informed about a whole range of subjects.
Keeping up with them can be time consuming, though. First you have to bookmark them all, then remember to check back regularly to see whether there are new articles – and often, there won't be. Once you're following more than a few, it can be difficult to manage and you're either going to be loading a lot of pages with no new content, or forgetting about it altogether and missing out on information that could be really helpful.
Wouldn't it be easier if you could just look at a single web page, which brought together all the articles from blogs you were interested in, and showed you at a glance where there was new content to check out?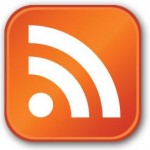 This is what RSS readers were designed for. RSS stands for "really simple syndication", and it's basically a standardised format for broadcasting web-based content. Blogs and websites that make their content available in that format tell you so by using the orange icon to the left – ours is at the end of individual blog articles and also in the page footer. The RSS feed "sends out" each new blog article as it's published.
To receive the articles, you need an RSS reader. An RSS reader, or aggregator, is just a tool that "grabs" each new piece of output from an RSS-enabled site, and puts all the information you're interested in together. It's real time, so as soon as a new post comes up on a site you're interested in, it'll arrive in your reader within moments.
How does this help my business?
You should be considering both sides of the RSS equation! If you have a blog, make sure that you've enabled an RSS feed, as this makes it much easier for customers or prospects to keep up with your news. If you're using WordPress as your content management system, as we do, it has a built-in RSS feed facility, and most CMS's with a blog function should offer one.
If you want to efficiently keep on top of all that blog-based content that can help your business, you'll need to register with an RSS reader. They're almost all free, and are easy to use. We just use Google's simple web based Reader , but if you have specific requirements there's a useful review of commonly used desktop based readers here .
Once you've got your reader, the easiest way to bring all that content together is just to visit each of the blogs that interests you, click on the RSS feed icon on the site (you can start with ours below!) and follow the steps to add it to your particular reader.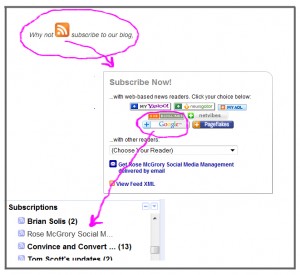 And that's it! Your reader will show you at a glance the number of new articles available on each of the blogs you're following, and you can either read them in simple text format within the reader, or click through to the blog itself.
It's quick, easy and you'll never miss a useful article again.
Enjoyed this post? Why not
subscribe to our blog, or

follow us on Twitter?