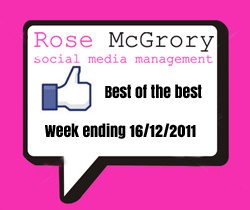 Welcome to our regular round up of the week's most important online marketing and social media content for SME marketers.
On the radar this week…
Twitter – big changes to the Twitter.com site
The "new twitter" interface (yes, another one) is being gradually rolled out to the UK now. Not sure what the logic is behind who has it and who doesn't – so far, our main accounts and most of our client accounts are still using the old version but judging by the comments in our Twitter feed, the majority of people seem to have had theirs upgraded. Some of the niggles associated with recent tweaks also seem to be being ironed out, for example "your tweets, retweeted" seems to have been rehomed alongside @mentions, which actually makes some logical sense, rather than within the chaotic "activity" area. Meanwhile, Twitter has also introduced "Brand pages"; a completely new development and obviously aimed at starting to crystallise some income for Twitter.
It seems that unless you have the "new" Twitter enabled on your own account, you won't be able to see the new brand pages either – so don't be surprised if nothing looks different yet!
Best Practice social media campaigns 2011
The first of the year's roundups is out, with a nice selection of great campaigns from econsultancy. If you're looking for inspiration for a big campaign, you could do worse than start here.
The elusive New Facebook Timeline – possibly coming soon. Still.
A bit like the Yeti, we're starting to wonder whether the rollout of the new Facebook timeline is going to remain legendary and only supported by rare glimpses. However, the rumour is that it really will be rolling out in the UK over the next few days.  Alongside that, there's also a new function to allow the public to send messages directly to Business Page administrators – a very sensible idea since currently there's no way to make contact with a page owner unless they've chosen to reveal their identity via the Featured Page Owner section.
42% of UK small business owners stumped by social media strategy
A new study by Epson has suggested that despite lots of UK small business owners registering themselves on Twitter (60%) and creating Facebook pages (31%), almost half admit to having "no idea where to start when it comes to using social media for online/digital marketing" . That sounds about right to us, based on our own work with SMEs – the "what buttons to press" part is fairly easy to learn for some, but the strategy side, and how to really make it effective for the organisation, is trickier.
If that's you, you'd benefit from one of our private social media training sessions where the focus is as much on what to do as how to do it – one for the New Year perhaps!
This week's top Tweet
The one that made us smile this week came from @madeupstats : " Thanks to smartphone autocorrect, 1 in 5 kids will be getting a visit from Satan this Christmas."
Have a great week!