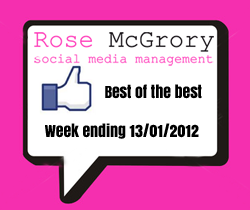 Welcome to our regular round up of the week's most important online marketing and social media content for SME marketers.
Here's what you might have missed this week…
The latest social media craze is Pinterest – a site which helps you create a virtual "mood board" of images and articles around a theme. This article from Mashable demonstrates some of the more advanced features, but also links through to their Beginners' Guide if you want to find out what it's all about. Pinterest: 13 tips and tricks for cutting edge users
Facebook:
Now that discussion forums are being phased out of the core Facebook Page offering, administrators need to add their own forum. This article looks at the benefits of doing so, and also includes a link to a "how to set it up" guide which is really helpful. 7 Reasons to add a Chat forum to your Facebook Page
Meanwhile, a travel company poll has revealed that the average UK holiday maker uploads their holiday snaps onto Facebook within a mere four hours of landing. They must bring back less laundry than we do, is all we can say! however, this – along with some of the other stats, like the fact that more than half of those questioned claimed they discuss their upcoming holiday more than twice a week on Facebook in the runup to takeoff – just underlines what a huge opportunity there is for Tourism businesses (hotels, attractions, restaurants) to market themselves through this channel. Average holidaymaker puts photos on Facebook within 4hrs of landing
Social Media to support visitor drive for 2012
While we're on the subject of tourism, Visit Britain has just released a range of projects promoting "friends and family" tourism to the UK in 2012. We think they're on the right track, helping people who live here and love it "show and tell" their overseas friends and relatives why they should be visiting. Visit Britain unveils social media toolkit for Olympic year
Social media strategy
If you're not already following Mark Schaefer's blog, we'd suggest you check it out. This week's article on 5 ways corporate culture determines social media success is especially relevant – even if you're a smaller company and a number of the "executive" roles are played by one person, it's easy for some of the attitudes mentioned in Mark's article to put the kibosh on your (or your agency's!) efforts.
And finally…
An older article, but one that we'd not seen before, and we think is such a comprehensive roundup that it needs to be shared anyway! Social media etiquette is always a hot topic, especially for marketers who are new to the medium. As each social media site is unique, so is the associated etiquette – and this article covers each and every one of them, in great detail. Even if you're a regular social media user, there'll be something here you've not considered before! So take a look at http://www.techipedia.com/2008/social-media-etiquette-handbook/
That's it for now, have a great weekend and do feel free to share any outstanding news or articles you've come across this week in the Comments!