Why do we need a Facebook post scheduler?
If you're managing a busy Facebook page, or just trying to develop a good Facebook community, then publishing your status updates at the right time of day can be the difference between a small audience and a significant one. For example, research on big brands' pages has shown a definite peak in engagement for retail brands around the weekends, and for fashion and beauty on a Thursday (planning outfits for the weekend, perhaps?).
That's all well and good, but you might not want to be at your desk on a Saturday evening, or you may know you're going to be tied up in meetings all day on Thursday. Until now, the only option you had was either to post at a less optimal time, or to use a third party tool such as Hootsuite or BufferApp to preschedule posts. And although we love Hootsuite for many reasons, we've found the success rate of scheduled Facebook posts to be pretty hit and miss; plus, we know that Facebook's Edgerank algorithm tends to de-prioritise posts which come in via a third party tool.
How to schedule posts within Facebook
So we know it'll come as very popular news to many of our B2C clients that it's now possible to preschedule your posts directly from within Facebook. Here's how it's done.
Start creating your update as usual, using the Status box. At the bottom left you'll see a new clock icon:

click that, and you'll get the option of using the scheduler to post in the future. You can also add posts retrospectively if you need to fill a gap in your past Timeline.
The first time you do this, you'll be asked to fill in a "start" (founded, created, born) date for your page if you didn't already set that up. Once that's done, you'll get access to the full scheduling function.
You can then set the exact post time you require, down to the minute!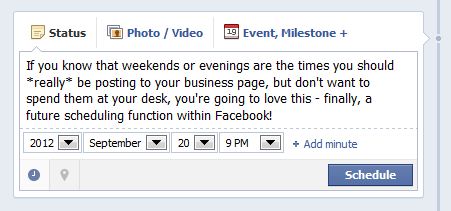 Amending your scheduled posts
Once you've clicked "schedule", the post will disappear, and it won't become visible on your Timeline until the publish date.
If you need to amend it in the mean time you can, but the function is slightly hidden away in your Admin panel, under the activity log. You can find it here: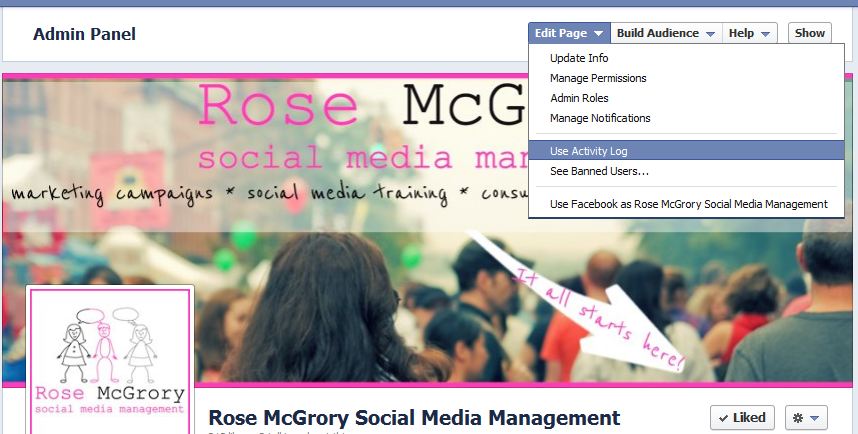 Once you've clicked into the Activity Log you'll find that there's a new Scheduled Posts section, above the details of your other activity:

Just hover over the post to bring up the drop-down arrow, and from there you can opt to amend the time, publish immediately or cancel altogether and start again.
This new function will definitely make life easier for many community managers. Just be careful not to fall into the "scheduled and absent" trap – if you're posting something which is likely to result in a lot of responses, or raise questions, you'll need to ensure that you respond reasonably quickly and don't forget about having made the post altogether!