The power of a custom business facebook page
Hopefully all our blog readers have seen our latest launch, a custom facebook page product which we announced last month. We've had lots of interest in our insanely bargainacious launch offer, and are working with a number of exciting businesses to turbo charge their Facebook presence as a result – but several are still Secret Squirrel, as they're brand new businesses whose Facebook pages will be unveiled as part of a marketing plan.
One of the first projects to go live, though, is a number of custom tabs for the superb Apex venue in Bury St Edmunds. In addition to a cool new landing page for the main venue, and an extra dedicated tab showcasing their conferencing facilities, we created a standalone Facebook mini-site for a big event. We thought you'd be interested to see how this works, as a demonstration of  how powerful these Facebook business pages can be.
Fashion Fusion at the Apex
The Fashion Fusion event is designed to give local Bury St Edmunds fashion retailers an opportunity to showcase their new collections, through a fully professional, glamorous catwalk show. Run for the first time in April 2011, it was a huge success, involving over thirty retailers and raising thousands of pounds for charity. The Apex team decided immediately that an event should be planned for 2012, to be even bigger.
The marketing challenge
Marketing for next year's event is in the early stages, but in order to make the day as successful as possible, the Apex team need to achieve two things: to involve as many local retailers as possible, and to build anticipation amongst the public and ensure that everyone who's interested remembers to get their tickets.
Without a dedicated website for the event, and with some local press coverage imminent, they needed a place to send interested retailers and potential attendees in order to register their interest, and ensure that the event audience is kept informed. We were confident that a well designed Facebook page would be able to meet those needs.
And here it is!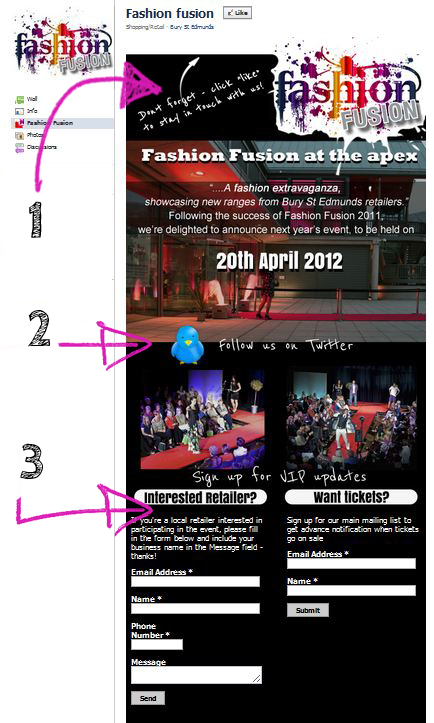 You can see a screenshot of the custom page we created on the right. Here's what makes it work:
Strong colours, images and splash branding ensure that the page makes a real impression on the visitor.
Then, they are encouraged (1)  to click the Like button, which ensures that all those visitors opt in to getting any future Facebook posts into their news feeds – straight away, the event is starting to make connections with those future customers.
The team were also keen to let people know that there's a Twitter account (2) for the event, providing another way to keep up with news nearer the time.
The Twitter icon and text is a clickable hotspot, opening a new window which goes straight to the Fashion Fusion twitter page.
Most importantly, the page includes full signup facilities (3) creating separate mailing lists for interested retailers and  VIP pre-event ticket sales.
Julie Warren, Development Manager at the Apex said:
""We were delighted with the success of last year's Fashion Fusion event, and want to make an early start on getting the word out to Bury St Edmunds about the next one.
Rose McGrory did a great job of interpreting our brief, providing a really eyecatching and visual page which will encourage people to get involved. We'd definitely recommend them to anyone who wants a great Facebook page at a very reasonable rate!"
If you're local to Bury St Edmunds and would like to attend, or get involved with the event as a retailer, just go to www.facebook.com/FashionFusionApex