This week, we've been attending Social Media Week London – a fantastic biannual week of free events and seminars on all things social media and online marketing related. One of the sessions was themed "Using LinkedIn to drive B2B community, collaboration and sales" and included no less than LinkedIn's Director of Marketing for EMEA, Henry Clifford-Jones.
The session was excellent and went into considerable detail about the way global brands like Phillips go about building LinkedIn groups of 50+ thousand members.
Along the way a couple of incredibly powerful features were mentioned which we hadn't been aware existed, and a quick straw poll of our fellow social media professionals showed most of them hadn't either!
Search the whole LinkedIn datastream
So, did you know that it's possible to search the whole of LinkedIn – all the public Group and Update content – for conversations around keywords which are relevant to your business? And not only that, you can also refine the search results by geography, industry, job seniority and more?
This is SO powerful for finding influencers, relevant groups and hot topics for your business…and yet it's hardly known about by most.
The "Signal" function
Here's how to do it.
Log in to your LinkedIn account, and under the "News" heading in the main menu bar, you need to choose the option "Signal" from the drop down, so:

That will give you a feed of everything that's being published, content wise, from people in your personal network – quite useful in itself, as it effectively allows you to apply search filters and keywords to your home feed.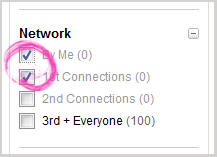 The real power is in the filters on the left hand side, though. There's a set of filters under the heading "Network", which by default are set to restrict results to your own updates and those of your immediate contacts.
By unchecking those options, you are able to search through everything happening on LinkedIn.
Now…choose your target
And there's more!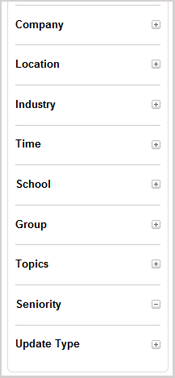 If you scroll down a little further, in the same left hand section you'll  find a complete set of filters which allows you to select the contributors of the content by a vast range of attributes.
Some of these are the same selection functions available when setting up a targeted LinkedIn ad, so can be used to pick out very precise combinations of location and industry, but there are more, too.
Which groups are talking about my key topics?
You can filter by how recently the content was published, and even more interesting, LinkedIn suggests a number of groups and "hot topic" hashtags you may want to search within – which basically means, it's showing you which groups contain conversations about your keywords.
This is great because, although you can search through groups by keyword, in popular areas you may get tens or even hundreds of groups which aren't very active.
Using the Signal search is a much faster way of locating groups which are active and actually discussing the topic you're interested in participating in.
Let LinkedIn do the hard work for you
A quick example of how valuable this can be. Let's imagine we're developing a campaign on behalf of a cleantech startup. They want to raise their profile with relevant industry leaders, and become known as a knowledgeable resource for their peers.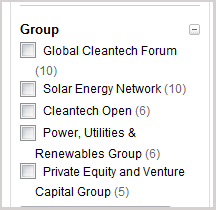 Putting "cleantech" into the search box, and clearing all the other filters, gives the results shown on the right in the "Group" section.
Note, many of these groups wouldn't have shown up under a basic search for "cleantech" – some smart thinking out of the box would be needed, and a lot of hit and miss searching, to find them.
Having identified those groups, we can take a look at the specific content within each, see who the active influencers are in each, and include that data in our campaign planning.
Building your campaign
Here are a couple of stand-out statistics from the session. LinkedIn reached 150 million members last week, of an estimated 640 million professionals worldwide.
Of the most senior folk, 15% log in to LinkedIn at least daily.  So for B2B companies who want to connect with influencers, positively influence industry perceptions of their products and services, and increase their influence during the research phase of those long and complex sales processes, a well executed LinkedIn campaign offers fantastic possibilities.
If you'd like some help developing yours, give us a call!