Up until a few weeks ago, if you clicked on the UK Twitter business centre links to enquire about advertising and then admitted to a budget of less than $5,000 per month, you were politely redirected into the long grass. This has kept Twitter advertising well beyond the reach of UK small businesses; unlike Facebook and even LinkedIn, there was no low budget, "suck it and see" option offered.
That's now changed. As of mid November 2013, Twitter has begun rolling out their advertising programme to UK based businesses with more modest budgets.
Why advertise on Twitter?
Before we look at the costs and options, it's worth thinking about why a business might choose to pay for exposure on Twitter rather than achieving it organically – through building a large follower base or creating shareable content.
The primary reason is likely to be time. Unless you're well-known in general (a personal or brand celebrity) or are able to produce that once-in-a-lifetime viral content, getting significant visibility on Twitter in a short space of time is very difficult. So if you have a short notice launch, want to promote something a little different for what you're known for, or are just impatient, then paid advertising is your best option.
Rather than having to wait for your audience to build naturally, and then start retweeting your content to their social networks, paying for advertising allows you to leapfrog your tweets directly into the timelines of your target audience.
Which brings us to the second reason you might consider paying for exposure: targeting. There are a range of ways in which you can target different Twitter users in the advertising scheme, allowing you to be much more precise about the kinds of people who'll see your tweets or account.
What's on offer?
The Twitter advertising platform is quite sophisticated, with a good range of options. Initially, you have to decide whether you want to promote your account (as in, appearing in the "Who To Follow" area of Twitter) or individual Tweets: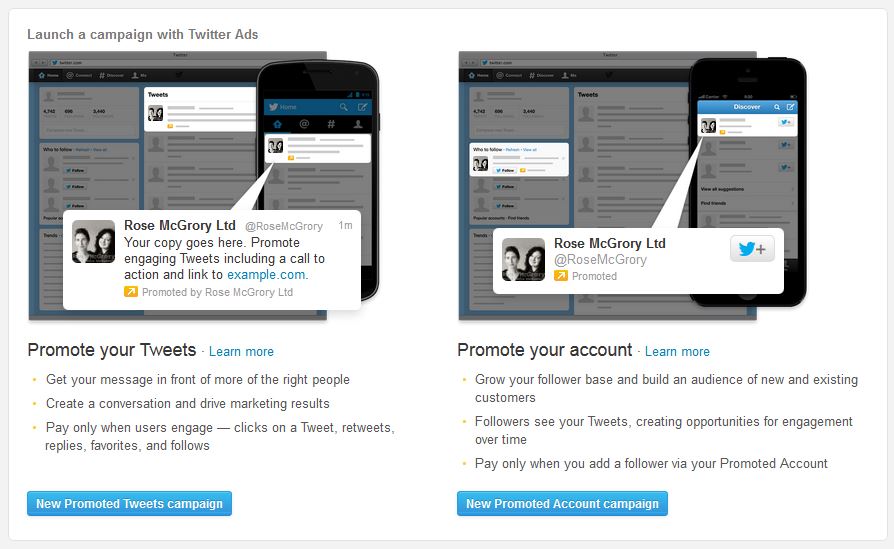 You then have a choice of how to target users – basically, this defines what criteria a user has to meet before your account or tweet will be shown to them.

As you can see, there are some pretty interesting choices there.  If you're launching a consumer architecture practise, being able to target people who engage with Grand Designs on TV could have great potential; if you're working in the B2B sector then being able to target everyone who currently follows the Twitter account of a leading industry publication could be very useful too.
Within those targeting options, you can  further refine by geography (although this is pretty coarse for the UK currently) and even gender.
For a Promoted Tweets campaign, you then need to choose which of your past tweets you'd like to promote – or let Twitter do that automatically based on popularity.
What does Twitter advertising cost?
As an example, we set up a campaign targeting anyone who'd used the word "renovation", in the UK.  The budgeting section is where things get interesting – because you can set very low overall budgets AND a small daily budget. That means it should be easy to keep control of what you're spending, and run a small scale (albeit possibly not entirely representative) pilot.
Here's a screen shot of our campaign budget settings: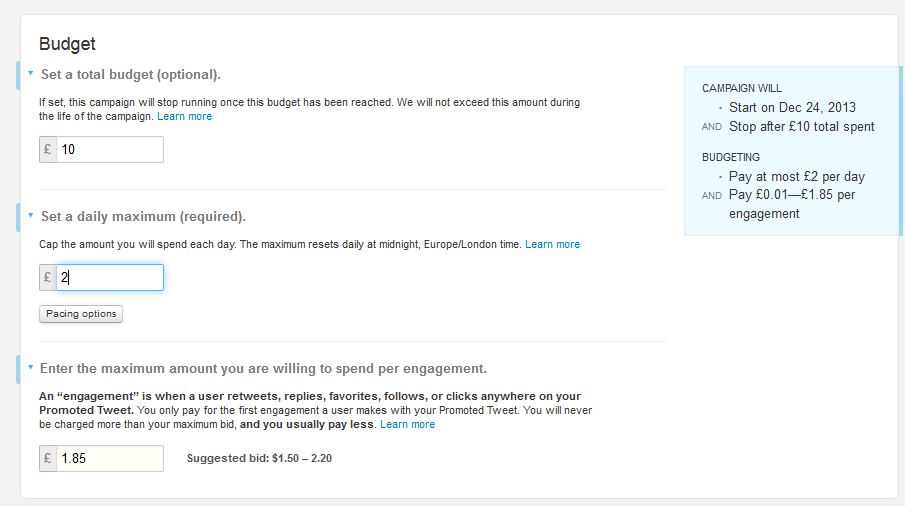 The slightly less promising item here is the "spend per engagement" bid. As you can see, this is what you will actually be charged if a user interacts with your Tweet in some way; and it is generally quite hefty.  If you compare with something like Pay Per Click ads, where (if you set it up right) a user could be searching for an immediate purchase, the typical bid amounts on Twitter seem quite high to us. I guess it will partly depend on the truth of the small print that "you will never be charged more than your maximum bid, and you usually pay less".
Any other gotchas?
Just one – there are some interesting comments about who will and won't be eligible for the advertising programme. We've found that a few of our newer clients aren't, and it seems to be just down to the overall level of activity on their accounts, plus how long the account has been established. Twitter says:
"The most successful advertisers on Twitter tend to be those who are avid Twitter users. This means they have a history of sharing exceptional content and engaging with their followers. If you are interested in advertising but your account is fairly new, be sure to complete your account's Twitter profile and spend a few weeks familiarizing yourself with Twitter's best practises…"
This looks like an attempt to impose some quality control and avoid the "big budget newbie with an egg avatar" taking over the world…which seems fair enough.
Where is it?
You have to register for the Advertising centre, so to get started, go to https://ads.twitter.com/ and see whether your account makes the grade!