Can you get clear results from Twitter advertising if you're a small business? You certainly can, but that's not to say you definitely will. We've been working with Twitter advertising for a while now, and have recently had a particularly successful campaign for one of our outsourced social media management clients.
Here's a short case study to share with you what worked, why, and what kind of results you can achieve.
The twitter ad campaign basics
The campaign was run for one of our longstanding clients, Urban Front Doors. Urban Front make gorgeous, contemporary hardwood external and internal doors like the ones in the header for this post – the kind of thing you see on Grand Designs (and often do, actually!).
Their designs are generally bought by architects and interior designers, obviously in consultation with their own clients, high end developers, and direct by clients who are project managing their own self build or refurbishment.
We have spent a long time building up a very targeted audience on Twitter – this is what we get from an analysis of the accounts who follow them, and it's exactly what they'd want it to be:

We have run campaigns for them a few times previously, which has enabled us to build up a good understanding of what targeting is effective.
Earlier this year, they had a lovely promotional video created, which emphasised their core USPs of British manufacture and good craftsmanship. We thought this would be a good opportunity to try out a video based ad campaign on Twitter.
Setting up the campaign
In order to run a video ad, you have to upload the complete file directly to Twitter – you can't just point it at a Vimeo link, for example. Once the file is available in the Videos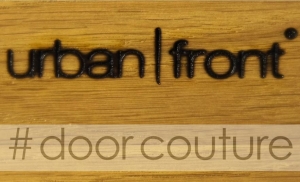 section of the Twitter advertising platform, you are able to customise the accompanying title and text, the "cover" image (what people will see until they play the video), and a relevant URL.
We decided to create a custom cover graphic featuring the #doorcouture hashtag that captures their product positioning perfectly.
The video will play "natively" within users' timelines, without having to load an outside site – hence having to load the entire file to Twitter initially.
In terms of targeting, this was a mix of existing followers and similar users, with users who follow some other carefully chosen Twitter accounts. We've found this feature to be often very effective in "pre-segmenting" people who are very likely to be interested in the product. We also have a fair amount of data on exact click-through rates of followers of each account from previous campaigns, allowing us to prioritise those most likely to engage with the advert.
The campaign ran for just under a week – a Sunday afternoon through to Friday evening, to capture both professional and personal user traffic.
The results:
The campaign delivered just under 171,000 impressions; 2,089 views of the video, and almost a thousand clicks through to the website.
The total spend was just £250.
In addition, they gained around 200 additional followers during the week – a normal week might see around 10-15, so we can reasonably attribute most of those to the campaign.
We think that is a pretty good result, and the client agrees. It's hard to imagine how else you could achieve that level of interest from targeted potential customers with such a small spend.
Quick takeaways
A few takeaways on the key things that contributed to this campaign being such a success:
Build up the right follower base to start with. There was no follower buying, and no high volume following to get the numbers up done on this account. Their follower numbers aren't huge – just over a thousand – but they ARE targeted, and particularly for a relatively niche, premium item, this is a much better approach. When we then came to target that base in an ad campaign, it pays off all over again.
Fine tune targeting using data from previous campaigns. This level of effectiveness didn't just come out of a first time shot in the dark. Having, and making use of, engagement data from past campaigns really helped.
Consider every aspect of the copy and images – including the cover image for video. Working with some great content – in this case the video – obviously provides a big head start. But just leaving the default cover image means you lose an opportunity to get a key message across, and it's just as important to copywrite the title and accompanying text well enough to tempt users into playing the video.
If you're thinking about using Twitter's paid ad platform, our advice would be a) experiment and b) track and analyse your data thoughtfully. You could end up with the best cost to exposure ratio you'll ever get.