This is the third part of our new tips & tricks for Pinterest series. If you missed the previous articles, the first one looked at clever use of special offers on Pinterest, and part two was all about the words – getting your company or products found in Pinterest Search.
This installment is about using Competitions as a way of driving traffic to both your Pinterest boards and your website.
Competitions on Pinterest
A well thought out contest is a great way of generating excitement, re-pins, and engagement around your business.
In the early days of Pinterest there were no rules around running competitions, which lead to a huge number of "Pin to Win!" contests, where brands required users to re-pin a specific image in order to enter a competition, usually with a winner drawn at random from all entries.  These were extremely popular amongst some users, but not so popular with Pinterest – probably because it was starting to swamp other users' feeds with content which was less "authentic" and interesting than they'd like.
In mid-2013 new guidelines were released which discouraged these kinds of competitions, but they're by no means "illegal" on Pinterest now – you just have to be more careful.
So wait up – there are rules!
To make sure that your business stays off the Pinterest naughty step, the first thing to know before we start, is what you can't do when setting up a Pinterest contest.
As a brief summary, the minor things Pinterest would like you to avoid are:
implying that Pinterest is sponsoring your competition, or otherwise affiliated with it. This can include things like putting the Pinterest logo on the contest page of your website, so be careful;
requiring pinning of specific pins, or encouraging multiple pins /likes / follows as a term of entry;
running constant competitions.
The big no-no is requiring users to re-pin contest rules, and (slightly oddly) they also ask you not to use the "Pin it to win it" title for your contest.
As an aside, a very quick survey of current competitions shows that a large number of big brands are ignoring one or more those rules, and evidently Pinterest isn't doing a great deal about it – have a look at some of the images below, which are all live at the time of writing!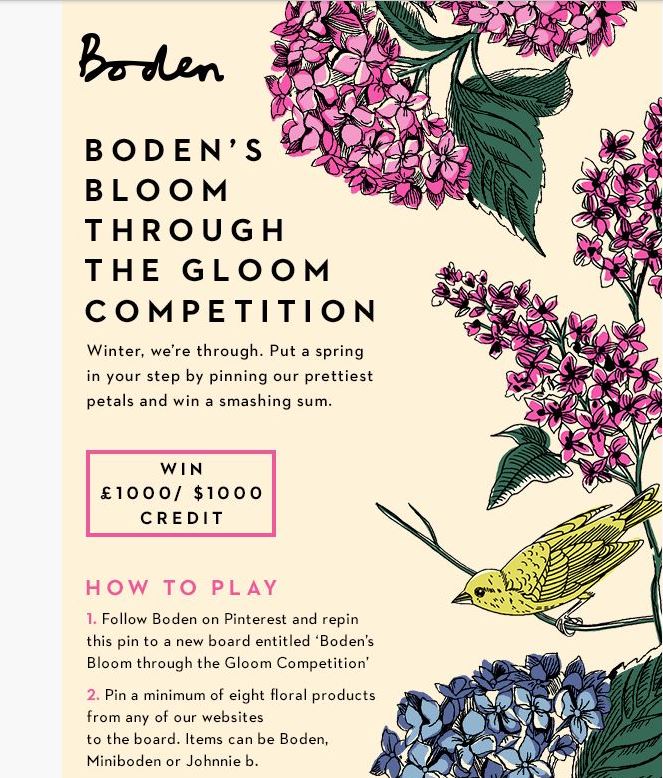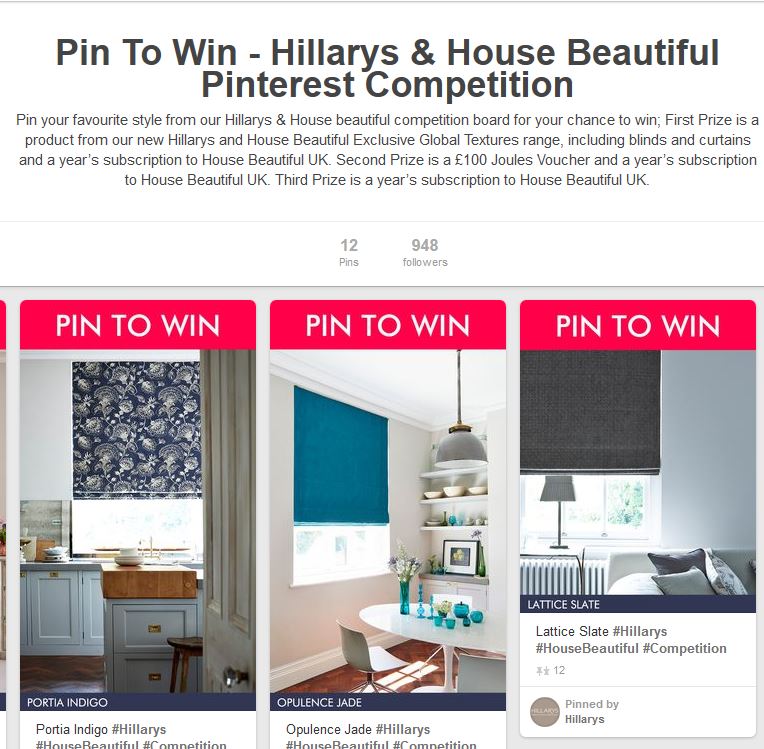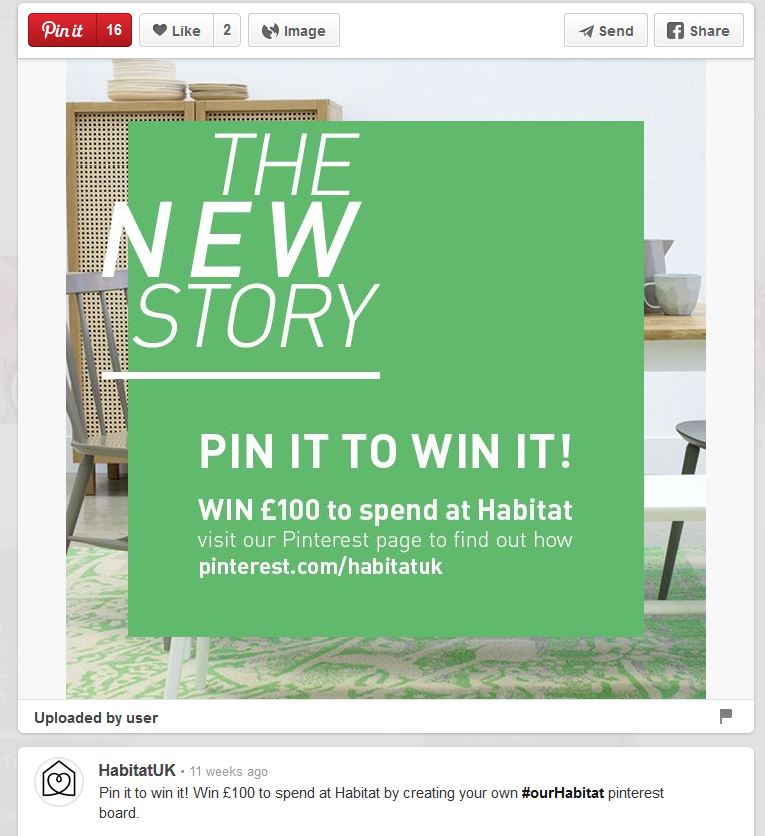 However, our own experience suggests that the rules have at least reduced the number of poorly thought out, lazy competitions which generated a lot of low quality content, which can only be good for Pinterest and the user experience.
So even though it seems you don't *have* to observe all the rules, being a little more creative in how your competition runs is still a good idea.
Running a great Pinterest contest
From those same regulations (they're here if you need to check for updates), what Pinterest does encourage is to support "people discovering things that inspire them. Reward quality over quantity".
Your challenge is to do exactly that, whilst ensuring that your brand or products are one of the inspiring things that people discover 😉
If the way you run your contest achieves that, then what you're actually doing is enlisting your customers to do your job. Everyone wins!
So, here are our Top Tips for making your Pinterest Contest board a happy place!
1. Don't get too hung up on YOU. The most engaging competitions allow user entries to go beyond just one product or brand.
For example, asking people to create a board for their dream wedding (including pins for venues, clothing, decor, honeymoon or whatever they want to include) will produce much more interesting results than asking them to choose their favourite tiara out of the 10 that you make. And will be much more fun for them, too.
2. Let users be creative. We know that creative types are over-represented on Pinterest, so why squash all that talent with an overly restrictive contest?
Rather than prescribing exactly what you want people to do, invite them to freestyle a little around your brand. The task could be anything from "Show us how the brand makes you feel" to "craziest uses of our products".  So long as their board explains the link, let them theme it however they want. You may end up with some amazing content.
3. Use a hashtag. Asking participants to add a brand hashtag to all of the images they're using for their competition entry is the easiest way to draw attention to your business without turning the whole thing into a spamfest.
4. Cross promote your contest. To drive additional traffic, you could ask people to visit your website for the winners' announcement, or get the competition theme from your Facebook page.
Just don't go overboard as you risk losing users if you make it too complicated.
5. Get maximum value from contest entries. With a little luck and if you've managed #2, you now have some beautiful montages themed around your brand.
How about screenshotting them and taking them somewhere where stunning images are not so much part of the everyday – your Facebook page, for example, or even a feature page on your website.
6.Let the public decide! This might go a bit against the grain for some businesses, but it's actually a very clever way of combining user research with your contest.
All you have to do is make the winning criteria something that depends on how *other* users react to a competition entry. So for example, you might award the prize to whoever gets the most followers for their competition Board. And now you know which themes and images resonate most with the public – useful, hmm?!